Simplex Advanced – aft seal
General description
• 3-ring sterntube seal for standard applications
• Since 1992 thousandfold market approved
• Certified by all major classification societies
• For all shaft diameters with additional pressure control of oil chamber II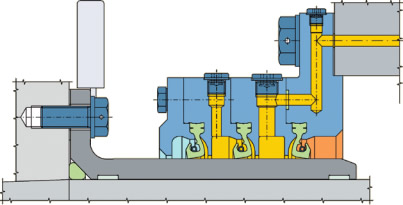 Advantages
Design
Market approved seals → reliable equipment covering the whole range of shaft diameters
Pressure controlled lubrication → greater
operational reliability at higher drafts
Customised and tailor-made → meets new
building and retrofit demands

Installation
Delivered fully assembled and tested
→ immediate and easy installation by the shipyard

Operation
Easy handling → reduced risk of operating failure
Constant pressure setting by aft seal tank → reliable operating system

Services
Designed for in-situ overhaul as per certified and approved Simplex repair standards
Worldwide service network and availability of spares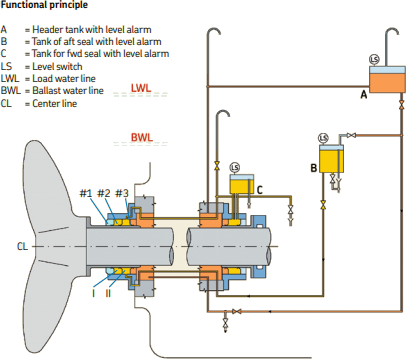 Function
• A stationary housing guides the Simplex sealing rings (2 facing water/ 1 facing sterntube oil). The rotating liner is fixed to the propeller.
• Oil chamber (I) is initially filled with lube oil ensuring proper lubrication and protection from dirt.
• Oil chamber (II) is filled with lube oil and pressure controlled through the respective aft seal tank (B). This independent oil supply ensures best lubrication.
• Condition monitoring of aft seal via oil level indication of aft seal tank (B).
• Additional pipe to chamber (II) for venting and lube oil refreshment.