Simplex Airspace Split Design – aft seal
General description
• 4-ring aft sterntube seal system with a dedicated air chamber ensuring the perfect separation of sea water and sterntube lube oil
• Excellent long term performance, high operational reliability and explicitly pollution free
• Certified "Non Pollution" sterntube seal by all major classification societies
• Known to the market since 1993
• Considered as non-oil-to sea interface under VGP 2013, verified by DNV GL
• No EAL adaptations of this seal type necessary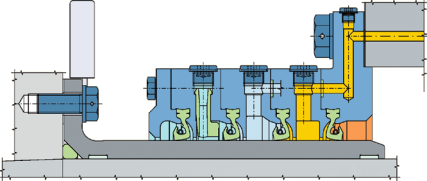 Advantages
Design
Separation of oil and sea water → No oil leakage into the seawater, no ingress of sea water into the sterntube → best environmental protection and operational reliability of sterntube bushes
Lowest air consumption of only 2…10 m3/day → minimum operating costs for the air compressor and its on-board generator
Additional backup seal system → automatic fail-safe switch-over and reliable emergency operation
Installation
Delivered fully assembled and tested → immediate and easy installation by the shipyard

Operation
User friendly touch control panel
→ intuitive operation
Automatic and self-explanatory system
→ simplified monitoring and maintenance
→ for extended seal lifetime
Services
Designed for in-situ overhaul as per certified and approved Simplex repair standards
Worldwide service net work and availability of spares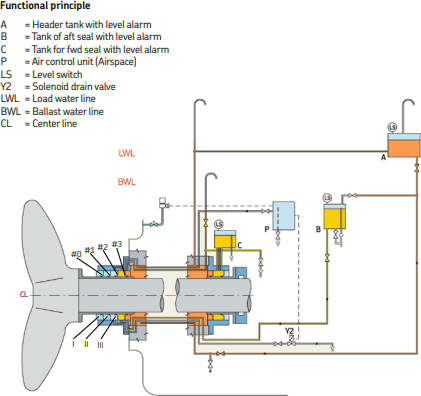 Function
• A stationary bronze housing guides the Simplex sealing rings (3 facing water/1 facing sterntube oil). The rotating liner is fixed to the propeller.
• Water chamber (I) is constantly flushed with sea water ensuring optimal cooling of the sealing rings by the circulator.
• Air chamber (II) separates sea water and oil. Control panel (P) regulates the pressure inside the void space depending on the vessels draft. The air pressure is set below sea water pressure, thus no air or oil can escape to the sea.
• At regular intervals all collected fluids are automatically drained to inside the vessel.
• Oil chamber (III) is filled with lube oil. It is pressure controlled through the respective aft seal tank (B). This independent oil supply ensures best lubrication and monitoring of the aft seal.